Experienced, Reliable Service

We're your one-stop-shop for home medical and mobility equipment! We provide friendly, personal and rapid service as well as state of the art products. Our expert team is here to help you find whatever you need whether its manual or power wheelchairs, lifts, scooters, respiratory equipment or aids to daily living, we've got it all.
Complete the form below to learn more about the products and services we offer or to get what you need today.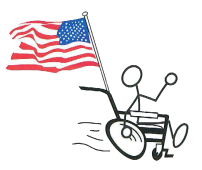 Rapid Rehab LLC
2660 8th St. S
Wisconsin Rapids, WI 54494

Daily living aids can provide extra help with your day-to-day activities. From canes to dressing sticks and lift chairs – we have everything you need.

Did you know? Nearly 1 in 3 adults 65 and older suffer falls each year. We have the best quality products that ensure your home's bathroom is safe.

We carry CPAP/BiPAP equipment and supplies to ensure you're getting a good night's rest. Have questions? Our respiratory therapist can help.

We carry a variety of lift chairs to make sitting down and getting up much easier and safer. They come in a variety of styles sure to complement any décor.

Ramping Systems & Rentals:
Remove barriers with one of our many ramps. We carry threshold ramps, van ramps and more. You can rent them if you only have a short-term need.

Get on the go with one of our high-quality scooters. We provide a wide array of scooters from leading manufacturers like Golden Technologies.

We offer several types of stair lifts and vertical platform lifts that can help you regain your independence at home. These are manufactured in Wisconsin by Bruno.

Rapid Rehab's state of the art durable and reliable vehicle lifts allow you the freedom of bringing your mobility device wherever you go.

We offer both manual and power wheelchairs in a variety of models. Whether you need something lightweight, bariatric, or standard—we can help.
Rapid Rehab is here to meet all of your home healthcare and accessibility needs. We assess your needs, answer your questions and help you find the perfect solution. Fill out our quick and easy contact form to get in touch with one of our experts or schedule a consultation. We look forward to meeting you!
Copyright 2019 © Rapid Rehab